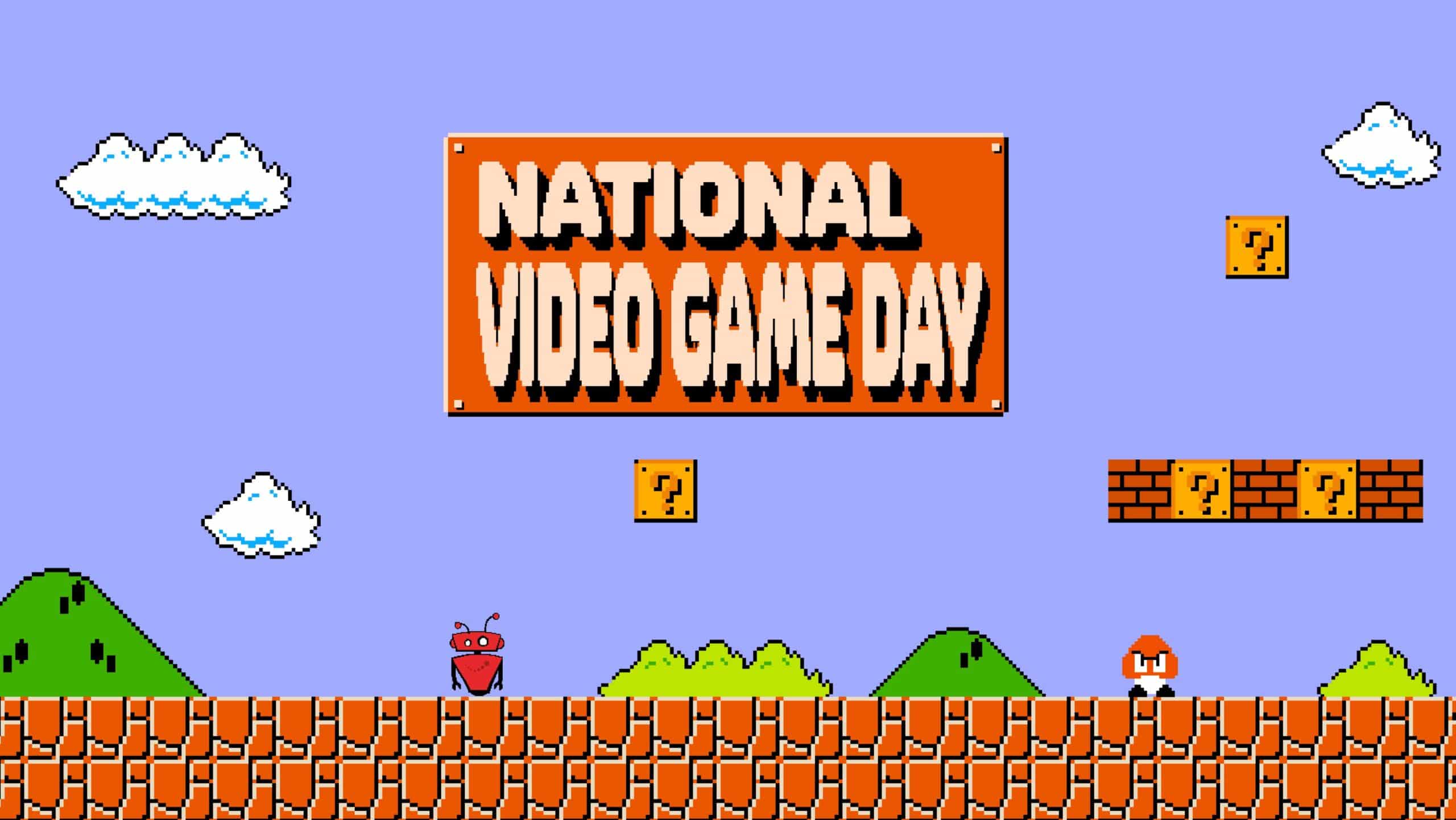 September 12, 2021
Game On! Celebrate National Video Game Day!
From a pesky plumber zooming through pipes to a hedgehog running at the speed of light, video games have opened the realm to so many different worlds, characters, and experiences. Over the decades video games and players have evolved. The best thing about video games is they are not just for kids, but for grown ups as well! For instance, the average gamer is 34. That means the age that plays video games the most potentially owns a house and has children. The best part is, over 70% of parents say that video games are have a positive effect on children.
The History of National Video Game Day:
Nationally we celebrate Video Game Day on September 12th! Some video games date all the way back to the 1940s, however the first game console didn't come around until the 1970s. Atari was the first to jump on the scene creating the game "Pong". Although there were some issues with their first game release, that didn't stop them from releasing the Atari 2600 with games such as "Space Invaders", "Donkey Kong", and "Frogger".
In the 1980s, the video game market crashed in the United States. Despite what was going on in the United States, Japanese creators ended up launching Nintendo and Sega. The video game crash of 1983 not only wiped-out Atari, but a vast majority of the American video game market itself. Over time, dominance in the market shifted to Japanese video game companies. Nintendo began exporting to America and at the time only had one other competitor, Sega, which was also a Japanese company.
To avoid making the same mistakes as Atari, Nintendo decided to launch "Nintendo Entertainment Systems" worldwide. The Nintendo console, or Nintendo Entertainment System (NES), was released as the Famicom in Japan in 1983. This allowed people to play popular arcade games, such as Donkey Kong, at home. The NES was well received by the public and ultimately led to Nintendo being a household name. Nintendo is responsible for some of the largest franchises including, "Super Mario Bros" and "Legend of Zelda".
What's Next for Video Games?
The modern era of gaming is said to have really kicked off in the 21st century. That is when we were introduced to the Xbox 360, PlayStation 3, and the Wii. Video games then invaded media platforms and app stores. Now these big-name video gaming companies like Nintendo, Sony, and Microsoft, have their sights set on Virtual Reality games.
10 Best Selling Video Games of All Time:
Tetris– 500 million+ sales
Minecraft– 200 million+ sales
Grand Theft V– 140 million+ sales
Wii Sports– 82.90 million sales
PlayerUnknown's Battlegrounds– 70 million+ sales
Pokémon Red/Blue/Green/Yellow– 45 million+ sales
Super Mario Bros– 40 million+ sales
Mario Kart Wii-38 million sales
Red Dead Redemption 2– 36 million+ sales
Mario Kart 8 Deluxe– 33.41 million+ sales
10 Most Popular Games This Year (so far):
Call of Duty Black Ops: Cold War (PC, Xbox, PS4)
Resident Evil: Village (PS4, PS5, Xbox One, Xbox Series X, PC)
MLB: The Show 21 (Xbox Series X)
Super Mario 3D World (Nintendo Switch, Wii U)
Marvel's Spider-Man: Miles Morales (PS4, PS5)
Monster Hunter: Rise (Nintendo Switch, PC)
Mario Kart 8 (Nintendo Switch, Wii U)
Assassin's Creed: Valhalla (Xbox One, Xbox Series X)
Outriders (Xbox One, Xbox Series X/S, PS4, PS5)
Minecraft (Windows 10 PCs, Xbox One, Xbox Series X, Nintendo Switch, PS4, PS5, iOS)
In conclusion, this holiday is not just about buying video games, but highlighting how much joy video games bring to those who play. Celebrate by hoping online and playing with friends, going to an arcade, or just buying a game you have always wanted to play. The good thing is there are so many ways you can enjoy this day!