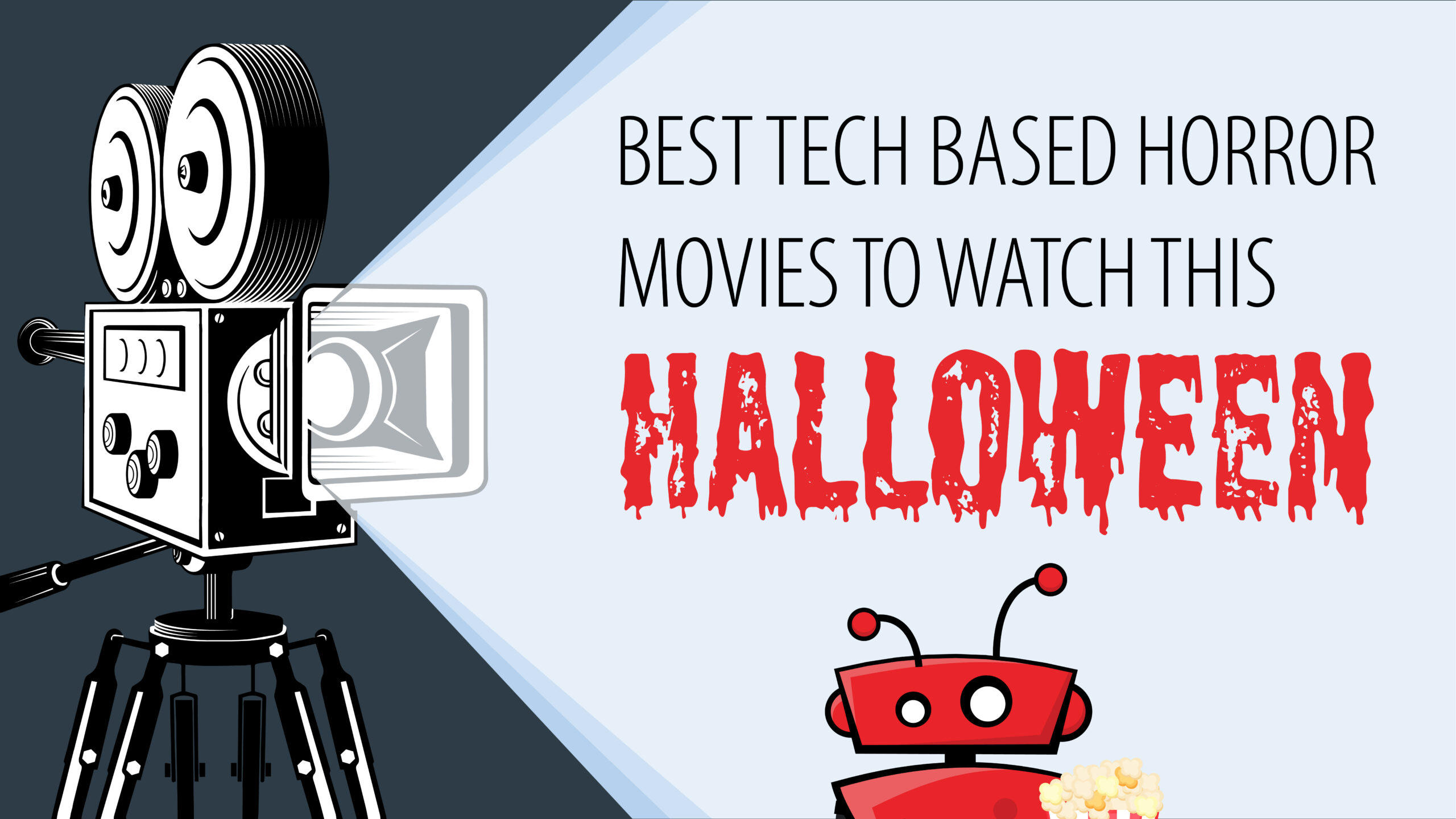 October 13, 2021
Best Tech Horror Movies to Watch This Halloween Season
Happy October everyone! What better way to celebrate spooky season than with some horror movies? This list of recommendations might not include Michael Myers, but we guarantee these movies will have you scared to pieces!
The movies are listed by order of release date (oldest to newest). There is a good mix for everyone. Whether it be internet stalkers or literal ghosts in a machine, we decided to put together a list of the best cyber/tech horror movies out there.
List of Cyber/Tech Horror Movies:
The Stepford Wives (1975) or (2004)

In both the 1975 and 2004 remake, the main character, Joanna Eberhart moves to the quaint little town of Stepford, Connecticut with her family. She soon discovers there lies a sinister truth in the all too perfect behavior of the female residents. The secret to a Stepford wife lies behind the doors of the Men's Association. Ways to Watch: Prime Video or Apple TV
Ghost in the Machine (1993)

An electric surge causes a serial killer's soul to end up in a computer. He uses the electrical grid and computer networks to continue his killing spree. It is up to the two main characters and a computer hacker to stop him before it's too late. Ways to Watch: HBO Max
The Net (1995)

A computer programmer, Angela Bennet played by Sandra Bullock, stumbles upon a conspiracy, putting her life and the lives of those around her in great danger. Angela discovers secret information on the disk she has received only hours before she leaves for vacation. Her life then turns into a nightmare, her records are erased from existence, and she is given a new identity, one with a police record. She struggles to find out why this has happened and who has it in for her. Ways to Watch: Netflix
eXistenZ (1999)

Starring Jude Law and Jennifer Jason Lee, this movie is about a game designer on the run from assassins. She must play her latest virtual reality creation with a marketing trainee to determine if the game has been damaged. The events leading up to this, and the resulting game lead the pair on a strange adventure where reality and their actions are impossible to determine from either their own or the game's perspective. Ways to Watch: Prime Video and Paramount+
FearDotCom (2002)

A New York City detective investigates mysterious deaths occurring 48 hours after users log onto a site named feardotcom. The only way to find out though what really happened is to enter the site itself. Ways to Watch: Amazon Prime and IMDb TV
Stay Alive (2006)

For a group of teens, the answer to the mysterious death of their old friend lies within the world of an online video game. The game is based on the true story of an ancient noblewoman known as the Blood Countess. The game is not as it seems. There is only one way to win, stay alive. Ways to Watch: Netflix
The Den (2013)

While studying the habits of web cam chat users from the apparent safety of her own home, a young woman's life begins to spiral out of control after witnessing a grisly murder online. Ways to Watch: Prime Video
Friend Request (2013)

When a college student unfriends a mysterious girl online, she finds herself fighting a demonic presence that wants to make her lonely. Creepy content begins appearing on her page and her Facebook friend count begins to dwindle as a result. When her real-life friends start dying, she must figure out how to break the deadly curse before it's too late. Ways to Watch: Hulu and Prime Video
Ex Machina (2014)

A young programmer thinks he is just spending a week at a private retreat but is selected to participate in a ground-breaking experiment. He finds that he must interact with the world's first true artificial intelligence, housed in the body of a beautiful robot girl played by Alicia Vikander. The movie was nominated for two Academy Awards, winning for Best Achievement in Visual Effects. Ways to Watch: Hulu and Prime Video
Unfriended (2014)

A group of online chatroom friends find themselves haunted by a mysterious, supernatural force using the account of their dead friend. At first, they think it's a prank, but when the girl starts revealing their darkest secrets, they realize they are dealing with something out of this world, something that wants them dead. Ways to Watch: Netflix and Prime Video
Nerve (2016)

A high school senior, played by Emma Roberts, finds herself immersed in an online game of truth or dare. Her every move starts to become manipulated by an anonymous community of "watchers". Will she win, or more importantly, survive? Ways to Watch: Netflix and Prime Video
The Circle (2017)

A young girl named Mae, played by Emma Watson, is hired to work for a powerful tech company. As she rises through the ranks, she is encouraged by the company's founder, Eamon Bailey played by Tom Hanks, to engage in a groundbreaking experiment. Only to reveal an agenda that will affect the lives of all of humanity. Ways to Watch: Netflix, Hulu, and Amazon Prime
Searching (2018)

The story is predominantly shown on smartphones, computer screens, and other electronic devices, and its online nature lives up to and delivers the "internet" element. The twists and turns that take place during this movie will have you recommending it to all your friends. Ways to Watch: Netflix and Prime Video
Countdown (2019)

A viral app begins to go around. The app predicts how a long until a person will die. The main character, Quinn Harris, downloads the app and it tells her she only has three days to live. With the clock ticking and a figure haunting her, she must find a way to save her life before time runs out. Ways to Watch: Hulu and Netflix
Host (2020)

Six friends hire a medium to hold a seance via Zoom during lockdown, but they get far more than they bargained for as things quickly go wrong. When an evil spirit starts invading their homes, they begin to realize they might not survive the night. Ways to Watch: Prime Video
Be sure to follow us on social media and let us know what some of your favorite cyber/tech horror movies from this list are!